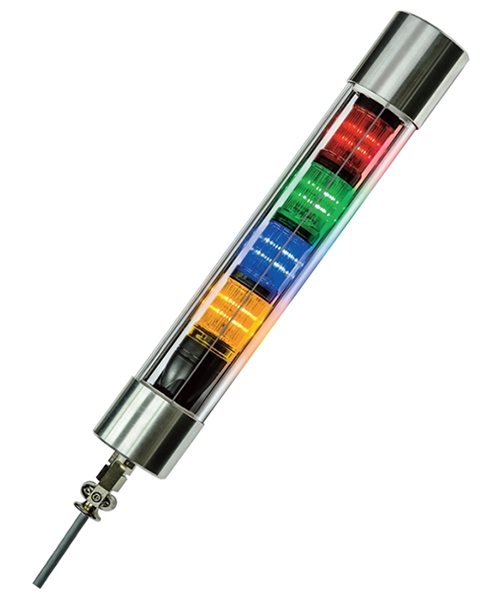 The explosion proof signal tower (Ex db IIC T5 Gb, Ex tb IIIC T95 ° C Db) provides better control over all major processes and installations in hazardous areas. The signal towers are an important part of installations, it provide early warning functions to the person on location.
The signal towers indicate visual signals to display system status. The colors are according to international standards, blue, orange, white, red, yellow and green and green. The light provided by the high performance LEDs is so clear that it ensures safe detection of signals even under extreme conditions.
The dimensions of the explosion-proof signal tower ensure flexible application for all installation conditions. They can be used in gas atmospheres zone 1 and 2 and dust atmospheres zone 21 and 22.
The polycarbonate housing has conductive contact strips to ensure safe discharge of electrostatic charges. The polycarbonate tube with aluminum end caps (special stainless steel version also available) meets the requirements for the protection of IP 68 and thanks to its high-quality polycarbonate it has a high impact resistance (IK 10). For the pharmaceutical and food industry, it is important that the polycarbonate does not splice. The explosion proof signal lights are supplied complete with a flameproof cable and a connection cable with a minimum length of 3m (see also IEC 60079-14, clause 10.6.1). Ambient temperature range is -20 ° C to +60 ° C.